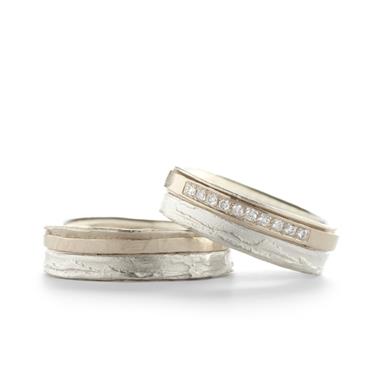 Combination wedding bands with tree bark texture
Wim Meeussen
TR ZR040 SMAL
MODEL: TR ZR040 SMAL
Width: 6mm
https://www.wimmeeussen.be/en/products/191-combination-wedding-bands-with-tree-bark-texture
€
395
INFO:
Wedding rings crafted from 925 sterling silver, with detail in 18kt white gold, natural tint.
Optionally set with 10x0,01ct natural brilliants or a diamond of your choice.
You can choose the color of the golden detail: yellow gold, white gold or rose gold.
PRICE:
Lady's ring: € 395,- (incl. 18kt gold)
Men's ring: € 425,- (incl. 18kt gold)
Price per pair: € 820,-
Price per pair as pictured: € 1170,- (incl. 18kt gold and diamonds)
Thank you for your interest, we will reply shortly.
How about these? - Perfect combinations