Stylish jewelry in rose gold
Did you already know that gold jewelry is available in different colors? In addition to white gold, for example, rose gold is back in fashion. That's a good thing, because rose gold jewelry is stylish eye-catchers that you can wear on just about any outfit.
This is how you can recognize rose gold
Rose gold has a soft pink tint. This is because yellow gold is combined with red copper during the production process. This gives the jewelry a very warm appearance. You can accentuate this by adding a gemstone, such as this ring with a granat. Of course, rose gold jewelry also looks great with a diamond.
Discover our rose gold jewelry
Do you also love gold jewelry? Then at goldsmith Wim Meeussen you've come to the right place. Our collection includes everything: wedding rings, engagement rings, bracelets, earrings, necklaces and more. Browse our website for inspiration or visit our jewelry store in the heart of Antwerp.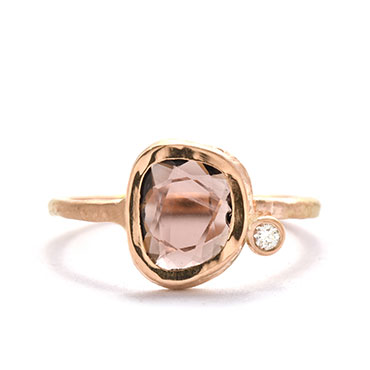 Customization is possible
As a goldsmith, we can also provide customization. For example, do you have a specific jewel in rose gold in mind? That is possible! Discuss your wishes with one of our jewelers.