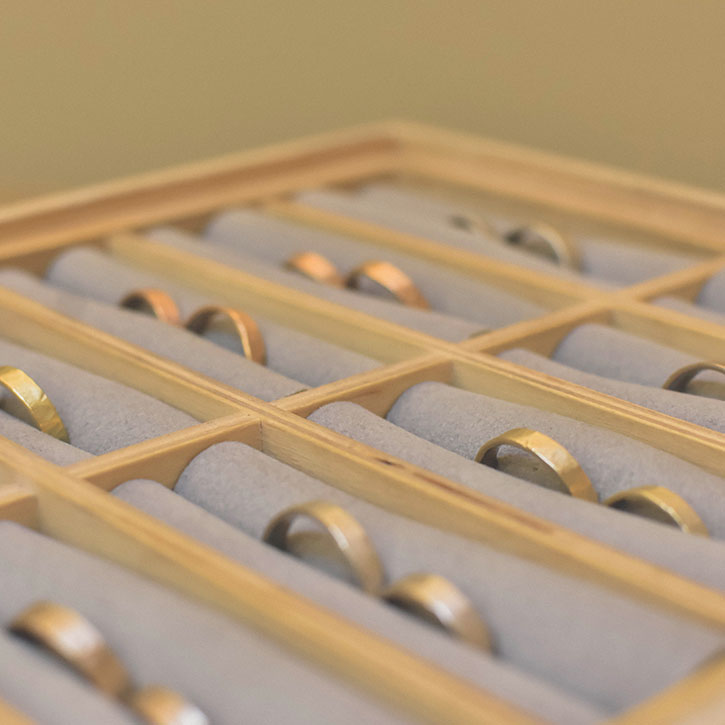 Gold colours
If you're looking for a trendy alternative to your classic yellow gold jewellery, you have come to the right address. Because goldsmith Wim Meeussen has jewellery in other colours too.
What colours are available?
Our collection comes in three different gold colours, each available in nine different colour tones:
Yellow gold
Whenever we say 'gold', we instantly think of yellow gold. That's because it's the metal's natural colour. So essentially it's the alloy that determines the tone. A ring in 18-carat gold will therefore be deeper in colour than one in 8c. We personally always opt for either 14c or 18c, the former having a slightly crisper look, as it contains less (24c pure) gold and more silver.
White gold
The natural colour of white gold alloy makes a perfect alternative for yellow gold, because it looks fresher and more modern. With its warm champagne-like colour, it's not so yellow as yellow gold and is often mistaken for platinum or silver.
White gold is an alloy with silver and palladium.
To make it even whiter, we can add a finishing layer of rhodium on top to give your jewellery its classic white colour. Unfortunately though, this layer will wear away over time, so you'll need to come back regularly to have it redone.
Our white gold jewellery comes in five different colour tones to choose from.
Rose gold
Rose gold has a subtle pink hue to it. This alloy - which we offer in two different colour tones - oozes warmth, youthfulness and femininity.
This gold colour first came about when 19th century Russian jeweller Carl Fabergé alloyed gold and copper for his famous eggs.
Complete your look
If you'd like multiple pieces of jewellery in the same colour gold so they all match, that's no problem, because we have rings, bracelets, necklaces and earrings in yellow, white and rose gold.
A mix of colours
Are you rather one to mix and match?That's super trendy nowadays! For example, you can put on:
A gold ring with earrings in white gold
A rose gold bracelet with a silver necklace
Multiple rings in white and yellow gold