Engraving rings: All you need to know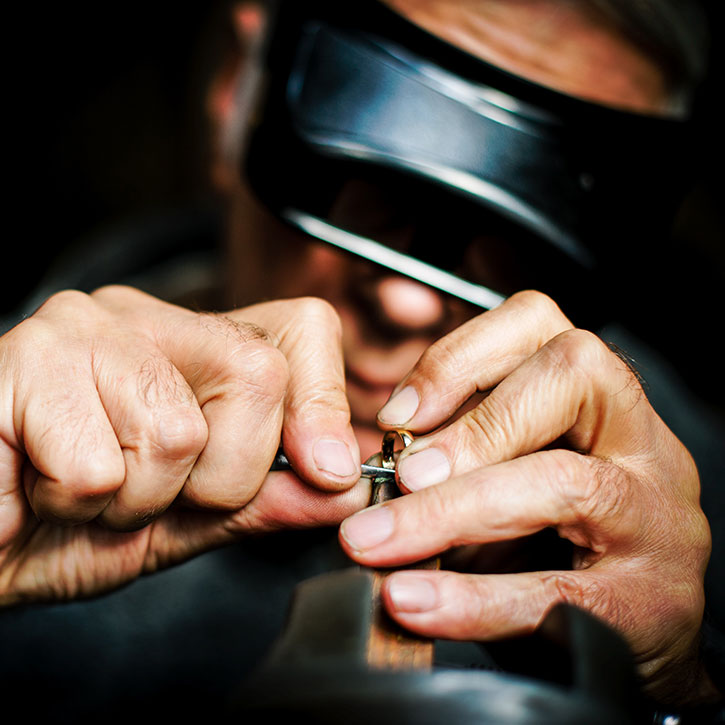 A jewel is a personal thing. Often it is something you bought for a special occasion: a wedding, a birth, an anniversary...
An engraving makes this piece of jewellery even more personal. Think of your wedding date on the inside of the wedding rings. Or the name of your brand-new baby on a 'press ring'.
Many of our customers have questions about engraving rings and other jewelry. That's why we've prepared this FAQ:
How much does an engraving cost?
Are you buying a wedding ring in our shop? Then the price of the engraving is included (unless you have very special wishes).
For an ordinary ring or bracelet, the cost depends on the length of the text. Usually this is between €20 and €40.
Is the engraving done by hand or with a machine?
We stand for traditional craftsmanship. The engraving is therefore preferably done by hand. If you want very tight/small letters, a machine engraving is also possible.
Can I choose a font?
Yes, we can engrave different styles of fonts on the ring. Classic or modern: that's up to you.
How much time does it take to engrave a jewel?
Count on one to two weeks to place an engraving, depending on the hustle and bustle at that moment.
Can I have icons and other shapes applied in addition to text?
Yes, you can. The engraving in a ring does not only have to consist of text. A symbol, such as a heart or an infinity sign, is also possible.
Is there a limit to the length of the text?
The inner circumference of a ring is about 5 to 6 cm long. This is the available space for the engraving. Usually there is enough space for your first names and the wedding date. Do you have an inscription in mind? Contact us. Then we'll see if it fits in the ring.
Does an engraving fade over time?
No, because the incisions barely wear off. So an engraving retains its beauty for many years and remains clearly legible.
What kind of jewellery can be engraved?
Basically, you can engrave all rings. They must be at least 1.5 mm wide. We can also engrave on bracelets, necklaces and cufflinks.
Yet another question about engravings for which you haven't found the answer? Send a message to info@wimmeeussen.be or call us on 03 232 19 13.