Proposal tips and ideas for a guaranteed YES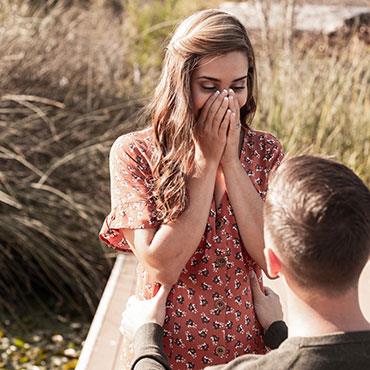 Ideas and tips for the perfect proposal
Proposing is stressful, because you're helpless as you anxiously await that coveted 'yes'. You know by now that preparation is everything for a maximum chance of success, so you've spent months or even years looking for the perfect romantic location, buying an engagement ring and much more.
However, if you're still looking for some tips and ideas for your proposal, then read on quick for inspiration.

Tips for great proposals
Tip 1: imagine yourself in your partner's shoes
Imagine you are your wife- or husband-to-be and ask yourself what their perfect proposal would be like. Is it an intimate moment in a romantic spot, like the hotel where the two of you spent your first holiday together? Or is it you going on one knee in a place with lots of people about? Because not everyone loves being the centre of attention. Though some do.
You never know, maybe your partner has already given you a few hints. Or some of their friends can give you some ideas.
Tip 2: write your own text
Most people are stressed when they're in the process of proposing. So put a text together to avoid clamming up when the moment of truth has arrived, as that way, you'll have something to fall back on if you get stuck.
However, do remember your proposal must first and foremost be personal. Talk about how you met, for example, or how you want to share the rest of your life with your partner. There are lots of creative texts to find online if you're struggling for inspiration.
Tip 3: buy a nice engagement ring
If you're proposing, you can't get around an engagement ring, preferably a stylish model that suits the personality of your future wife or husband, indeed maybe even custom made. The designers at goldsmith Wim Meeussen will collaborate with you to provide the perfect engagement ring for your proposal. You choose the material, design, any engravings, precious stones, etc., and we'll do the work.
Tip 4: keep it secret
A proposal is all the more romantic when it comes completely out of the blue. So take extra care as you are preparing for it: hide the ring in a place where your partner is guaranteed not to look and definitely do not leave reservations or other documents lying around that could make them suspect anything as to your intentions.



Ideas for great proposals
Great proposals always start with great ideas. A few examples:
Make your proposal into a treasure hunt. Hand your partner a map that sends them to the most beautiful sites in your town or village. The last one will be you with a beautiful engagement ring.
If the two of you already have a child together, print a t-shirt with, "Mummy, would you marry daddy?"
Book a balloon trip and propose in the air. You get extra kudos if you mow your question into a meadow on the ground.
Get into a photo booth together and take out your ring as the photo is being taken. That way, you'll have a memento to remember this wonderful, unforgettable moment.
If your future wife or husband has a sweet tooth, then let your local bakery make a cake for you with, "Will you marry me?" piped onto it.
Put your engagement ring quietly on the finger of your intended as they are sleeping at night and wait until they spot it in the morning.
Invite all your friends for a party. Make your partner stand at the front for the group photo as your guests hold up signs behind him/her with your proposal.
Proposals in public can be romantic too: in a restaurant, during a sporting event, on the plane...
Go to a theme park together and hold up a sign with your question during the photo on the rollercoaster.
Make breakfast in bed and hide the ring in a glass of fizzy wine.
Make a proposal video to upload on YouTube and share the link with your intended as you're sitting on the couch together.
Go to your favourite coffee shop and ask the barista to put 'Marry me?' in cocoa on the milk foam
If your girlfriend or boyfriend has been dreaming of a dog or cat for a long time, then this is perfect timing: don't forget to put the ring round the collar of your brand new pet!