Nice gifts for witnesses and bridesmaids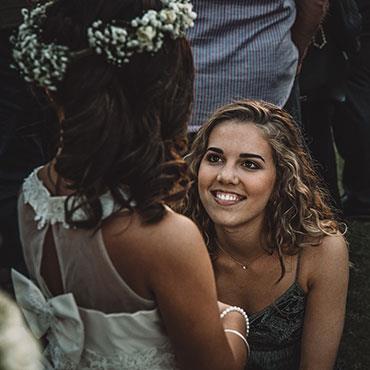 You don't get married alone. Because in addition to you and your partner, a lot of other people are involved. Like the witnesses and bridesmaids. You can thank them for their efforts with a nice present.

Gifts for your best man or matron of honour
Giving your best man or matron of honour a thank you gift is not an obligation, but it will undoubtedly be appreciated. Because chances are, your sister or best friend is putting a lot of time into your wedding. Think for example of the organisation of the bachelor party or the help with choosing the perfect wedding dress. That's why more and more brides are buying a bridesmaid gift for their matron of honour. The best gifts are personal. And what is more personal than a piece of jewellery? Here are some suggestions:
A silver necklace engraved with 'best friend ever'.
A bracelet with your own text
Ear studs to match your own pair
Tip: deliver this gift before the wedding. This way, your sister/girlfriend can wear the jewellery on the wedding day. Looking for an alternative? Here are some more great gift ideas: A wellness day to relax together A goodie bag with beauty products, wine, chocolate... A personalised bag or purse A high tea arrangement in the neighbourhood ...

Gifts for bridesmaids
What could be cuter than bridesmaids scattering rose petals in the aisle of the church or bringing the rings? You can thank these little heroes with a nice piece of childrens' jewellery. Our range includes all kinds of pendants, rings and earrings. There is no shortage of choice - both for girls and boys. As a specialist in customised jewellery, we can of course coordinate the design of this children's jewellery with your wedding jewellery. Then you will match each other beautifully.