Stackable rings: trendier than ever!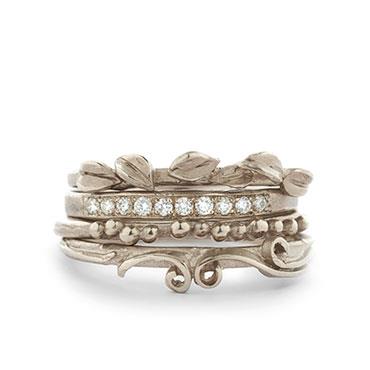 Stackable rings are the latest trend!
If you follow the latest news in fashion, you won't get around stackable rings, because these pieces of jewellery are trendier than ever and the perfect way to show the world your fashion sense!
What are stackable rings?
A stackable ring does what it says on the tin: several of them can be 'stacked' on one finger to make up an aggregate ring, as it were. Usually there are about three, but four or even five rings can be combined too - over both hands if you want.
Subtle variations
Though each ring is a little different, they all follow the same design principle, which is what makes stackable rings so beautiful.
A few ideas:
Rings of the same design, but each set with a differently shaped diamond
2 rings in rose gold and one in white
3 rings in the same material, but with different widths
A clever mix of ring models and colours will undoubtedly enable you to create sparkly masterpieces that are guaranteed to produce covetous glances from friends and acquaintances.
Custom stackable rings
If you already have a specific style in mind, then let us know and we'll make a stackable ring especially for you. You choose the shape, material, stones, etc. and we will do the work. For special occasions, like weddings or for birth presents, we are always happy to engrave the name or date as well. Contact us for more information.