Trends in wedding rings for men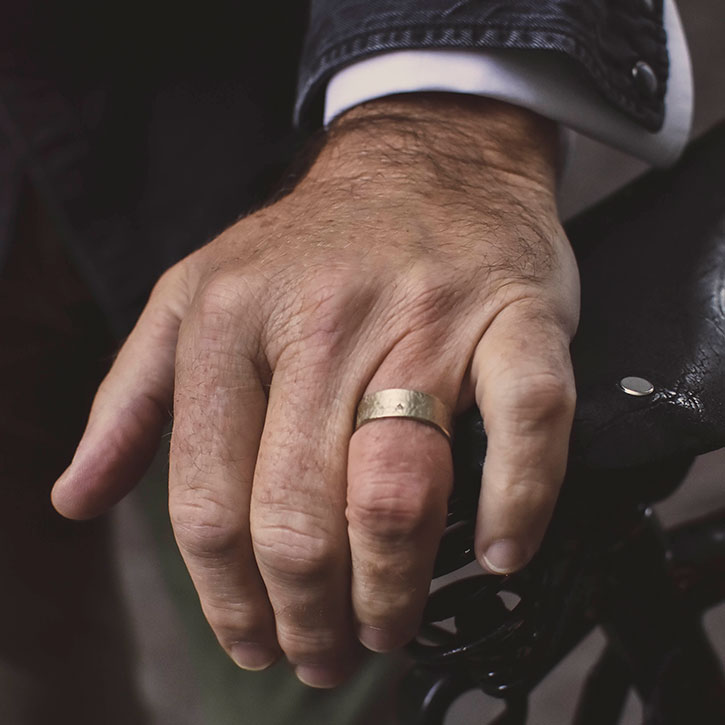 A lot is written about wedding rings for women. Unfortunately the grooms are often left out in the cold. Wrongly so, because there are several trends when it comes to wedding rings for men. An overview:
Personalize your wedding ring
In the past, men invariably opted for a classic, golden wedding ring without too many frills. That is no longer the case. Because personalized designs are more popular than ever.
When it comes to customisation, you choose:
The material (gold or silver)
The thickness (from narrow to XL)
The design (plain, robust ...)
Decorations (like the fingerprint of your future)
Engravings (name, wedding date ...)
We can only applaud this trend. Because men also deserve a wedding ring that is 100% in line with their personality.
White gold is hot
Do you want a trendy wedding ring for men? Then choose white gold. It looks much more modern than the classic yellow gold. What's more, it's a timeless colour that matches every outfit - from wedding costume to casual outfit.
We have 14kt and 18kt white gold. What's the difference? You can read about it in this article.
Go for matching cufflinks
Ladies wear an extensive collection of bridal jewellery. So why wouldn't men invest in some matching jewelry? Nowadays a lot of grooms choose cufflinks that match their wedding ring. They are made of the same material and follow the same design style. So everything forms one whole.