Check your ring size for a perfect fit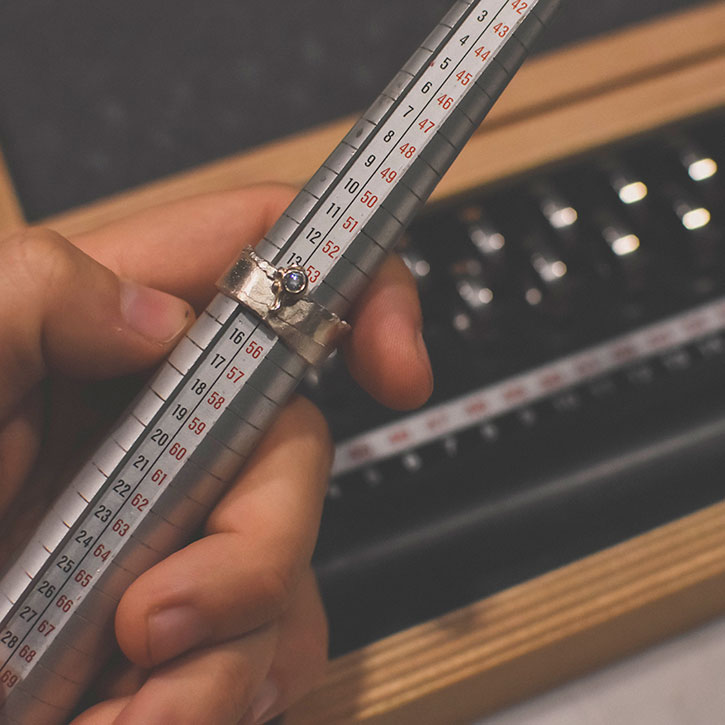 What is my ring size?
If you want to buy a new ring, you need to know your size. This is important, because if your brand new piece of shiny jewellery is too small, it will be uncomfortably tight around your finger, while one that's too big will slide off and get lost.
Inner diameter
In Belgium, jewellers usually express ring size as the inner circumference of your ring in millimetres. In other countries - like the Netherlands and Germany -, however, ring sizes are measured as inner diameter.
To determine the size of a comfortably fitting ring you already have, check the inner diameter with a gauge and multiply by 3.14.
Ask a professional to measure your ring
If you want to be really sure you get your size right, just pay us a visit in our jewellery shop in Antwerp. Our staff will happily advise you about your size! We even have sample rings for you to try on, so you can feel the difference first-hand.
Your size may vary
Keep in mind that whether a ring feels loose or tight entirely depends on what you feel comfortable with. Apart from this, the perfect diameter will also vary sometimes, as your fingers might be a bit bigger in summer due to the heat and a bit slimmer in winter. Though rest assured that we take all this into account when you are choosing a ring in our shop!
Larger or smaller
Don't worry if that coveted wedding ring from 20 years ago doesn't fit anymore or if you should have bought that precious engagement ring for your now fiancée a bit bigger...
We can make it fit!
For simple rings (without stones or engravings), we can usually fit you in the same day, though we prefer you to make an appointment beforehand so we can reserve a spot for you on our schedule.