Jewellery with colourful gemstones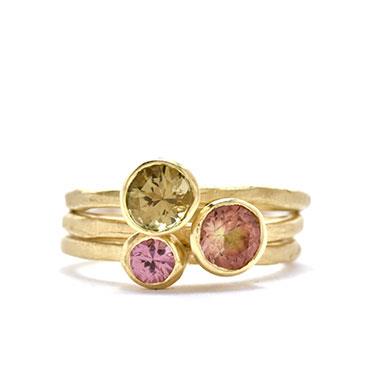 When you think of gemstones, you immediately think of diamonds. But there are many more gemstones, semi-precious stones and minerals - each with their own unique colour and brilliance. We also use them regularly in our jewellery.
Popular gemstones
We love to show off unique rings - designs that are just a little bit different. Gemstones are ideal for this. Because these colour stones instantly create a sophisticated look. As gemstones, we choose for example:
Sapphire
Tourmaline
Agate
Citrine
Prasiolite
Smoky Quartz
Ruby
Lapis lazuli
Emerald
Sapphires are generally classified as one of the most valuable gemstones. You probably know them in their blue form, but other colours are also available, such as orange, green, yellow, etc. Sapphires are a symbol of wealth.
Tourmalines are a form of cyclosilicates. These minerals usually consist of elongated prismatic crystals. Usually, they have a green colour, but other colour varieties exist, such as black (schorl), brown (dravite), green (uvite), etc. Tourmalines were popular with artists, as they were said to enhance creative powers.
Agates belong to the chalcedony group, a variety of the mineral quartz. The colour is usually light blue to dove blue, but other colours also exist. In folk medicine, agates provide protection during pregnancy and reduce headaches.
Citrines are sometimes called lemon quartz because of their colour. They are not to be confused with yellow topaz, which is a completely different mineral. Many people see citruses as a way to improve concentration and fight sluggishness.
Prasiolites have a beautiful mint green colour. They are created by heating purple amethysts (naturally or artificially). These gems have a positive influence on your heart and digestion.
Smokey quartz stands out with its warm brown shine. This is caused by the effect of natural radioactive radiation on quartz. Don't worry: this gemstone itself does not give off radioactive radiation and is therefore harmless.
Rubies are perhaps one of the most well-known gemstones for jewellery. With their warm red colour they are real eye-catchers. In antiquity and the Middle Ages, people attributed magical powers to rubies.
Lapis lazuli stones, also known as lazure stones, are very beautiful in earrings. They are opaque, with an intense azure colour. This colour has been associated with wisdom for centuries.
Emeralds belong to the beryl minerals. These gemstones are transparent (the brighter, the higher the price) with a beautiful green colour. According to popular legend, emeralds have a restorative effect on the body.
Add colour to your outfit
Coloured gemstones are ideal for adding a playful touch to your outfit. For example, do you have a dress with yellow colour accents for a party? Then wear earrings with lemons. That way, everything fits together. There are different colours in our collection. So there is something for everyone.
A gemstone in your favourite colour?
Do you have a favourite colour that you would like to see reflected in a piece of jewellery? We will find the right stone. As a specialist in customised jewellery, we are happy to meet your wishes. Visit our shop in Antwerp or contact us at info@wimmeeussen.be for more information.